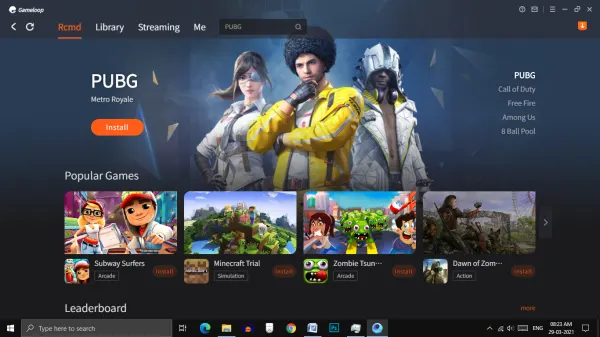 Latest News is Pubg Mobile 1.4 version is launched and you can download the pubg mobile 1.3 apk from the link given below:
Download Pubg Mobile 1.4 apk
Note:In order to install Pubg Mobile in India, you need VPN. You can use the Best Free VPN given below in the article.
GameLoop is an Android Emulator made specifically for playing Android Games like Pubg, Call of Duty, Among Us, and many more.
Although it has many issues going on like game freeze, random crashes, etc., it works really well for playing Pubg Mobile. The Emulator is basically made for Pubg Mobile only, but you can play any Android game on it.
Download the GameLoop Pubg Mobile Emulator from the links below:
Download GameLoop
Note:Download the English Language Version on the download page.
Latest Issues and needed improvements in GameLoop Emulator :
Keymapping Issue
Issue with Update button, it doesn't work most of the time, users use to click it many times to get the update dialogue open.
Random Game Freezes
Game crashes sometimes on some users.
Bad Settings User Experience, there should be Tooltips to brief the settings options.
After having high end PC, the game still lags.
This is related to the previous point that Frame Drops are very much when there are many players around in the game.
Get free Working VPN for Pubg below:
If you are having problems in India you can use a Free Tested VPN by me. This is not any afiiliated link I just got to know about the vpn and wanted to let you all know.
The VPN is available for Windows, Android, and AppStore.
Tom VPN
Proton VPN
Comment for any Queries and to report more issues.